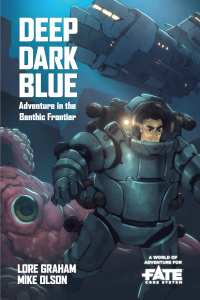 Eben noch in der Apotheke Entwicklung, jetzt auf der Show-Bühne! Deep Dark Blue ist seit gerade eben via Drive Thru mit dem üblichen Pay What You Want Modell zum Download bereit gestellt worden.

Wer an Blue Planet, LodlanD, Polaris denkt, ist im richtigen Fahrwasser und bekommt nun einen Fate-Aussenborder dafür.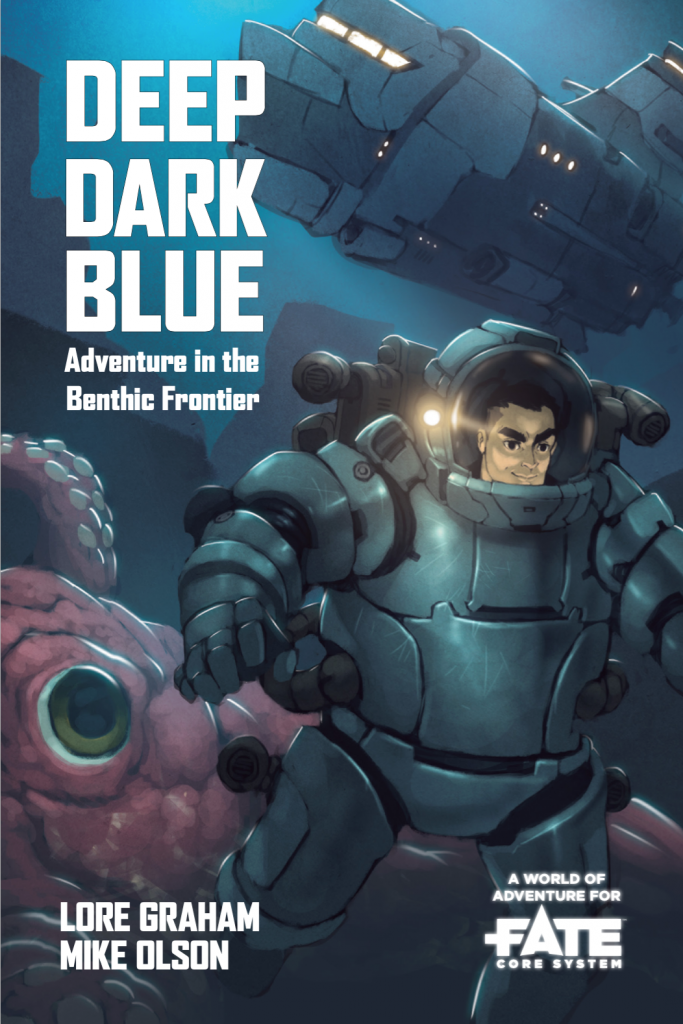 Adventure awaits between the devil and the deep blue sea…
In the near future, when most of the Earth's land has been stripped of its resources, an intrepid few look to the depths of the oceans for energy and precious metals.
This new frontier carries as many dangers as it does opportunities, including the crushing pressure, colossal squids, and ruthless tactics of your rivals at Quest, Inc. Even your own ship will betray you if you let your energy or oxygen dwindle, threatening your navigation systems, lights, engine, and life support itself.
Survive the depths in Deep Dark Blue, a new Fate World of Adventure by Lore Graham and Mike Olson.
Deep Dark Blue requires Fate Core to play. This 52-page supplement contains:
A crew-based character creation system to help create a cohesive and balanced group
A new teamwork track to represent the effects of stress on group dynamics
Submarine rules for deep sea exploration, combat, and damage
A ship-specific condition system—like consequences, but with specific effects and duration
A short introductory adventure—The Rescue of Dr. Williams
The Fate Adventures & Worlds line provides compact, rich, affordable, gorgeous settings with a ready-to-go adventure for GMs in a pinch. Buy one this afternoon, be ready to run this evening.
Der Beitrag Deep Dark Blue steht zum Download bereit! erschien zuerst auf FateRpg.de.