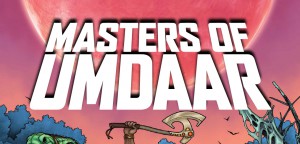 Die nächste "World of Adventure " von Evil Hat ist gestern erschienen.
Rise up against the Masters of Umdaar!

Behold the fallen world of Umdaar, home to savage warriors, cyborg insects, and merciless warlords. Oh, and lasers—lotsand lots of lasers. The Masters rule with an iron fist, and the people's only hope are the archaeonauts and their quest for long-lost artifacts of power. But will the Masters get there first? Masters of Umdaar, our latest Fate World of Adventure by Dave Joria, is a retro tribute to such shiny serials as John Carter of Mars, Flash Gordon, He-Man, and Thundercats.

Masters of Umdaar requires Fate Accelerated Edition to play. This 51-page supplement includes:

A randomized Fate dice system to create a wide variety of sci-fi/fantasy characters like robots, mutants, talking animals, and more
Character class breakdowns based on Fate Accelerated approaches, with a wide variety of options
New rules for cliffhangers—a new form of obstacle to overcome—with rules that encourage the use of different approaches
A variety of tools to easily populate your adventures, including a beast generator, trap guidelines, and sample artifacts
A sample adventure—The Starblades of Su'ul—as well as seeds for further adventures
Der Beitrag Fate World of Adventure: Masters of Umdaar erschien zuerst auf FateRpg.de.